Delica D5 and Skycamp Set
If you are looking for a Delica D5, check us out~
Last time we looked at the gasoline model D5, but now we will look at the current model.
<Nomad Camper Series>
The iKamper brand roof top tent set and other parts and navigation installments are in demand! We have all of these wrapped up in a 1 price special set model for you.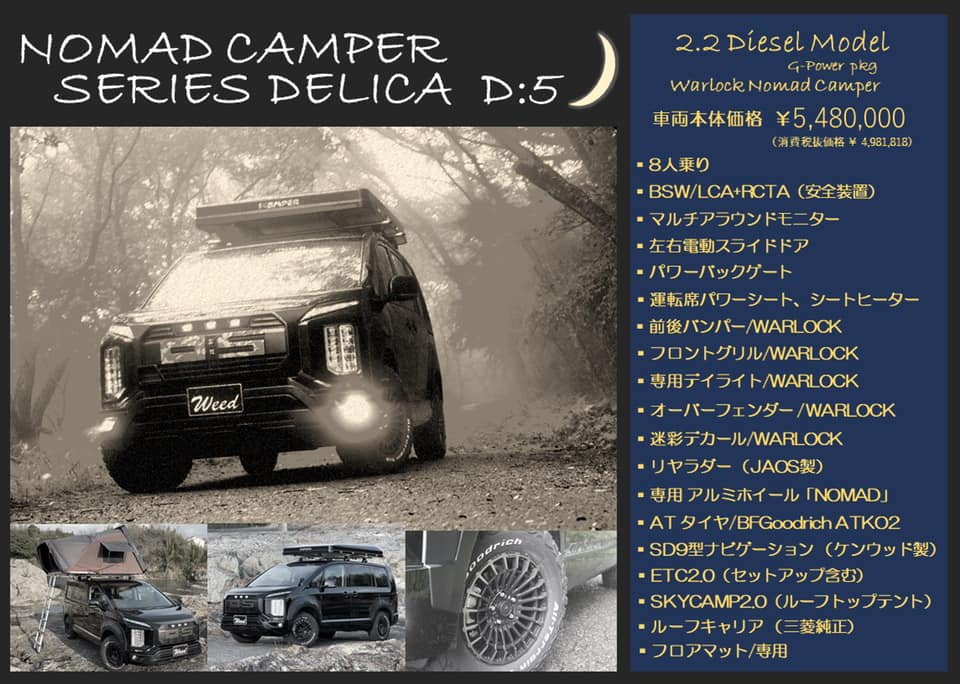 The newest 2020 model is what we currently have in stock, so numbers are limited. The grade for the base vehicle is the G-Power PKG, then we customize 2 8-persons cars and 3 7-persons cars into a limited sale edition!!
This year's camping design has been decided
This is included in our January Campaign for Cars!!Near or far, feel free to contact us for more information.
※The iKamper January Campaign is not included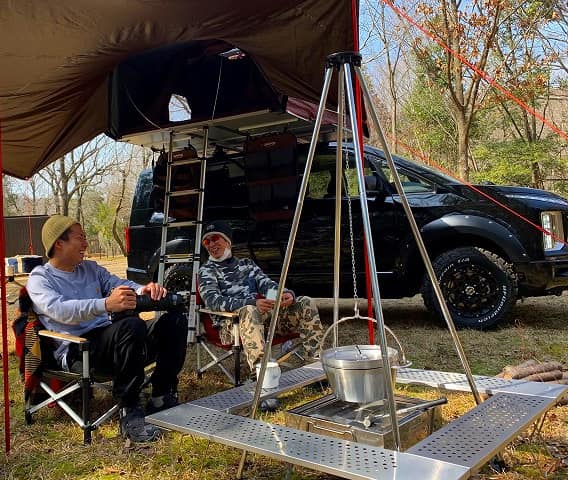 Custom Details:
◼︎Maker Option: Multi Around Monitor
◼︎Maker Option: BSW/LCA+RCTA
◼︎Both Side Power Slide Doors
◼︎Power Back Door
◼︎Driver Seat Power Seat
◼︎Front Seat Heater
◼︎Radar Auto Cruiser Control
◼︎WARLOCK/Front Grille
◼︎WARLOCK/LED Day Light for Grille
◼︎WARLOCK/Front Bumper Garnish
◼︎WARLOCK/Rear Bumper Garnish
◼︎WARLOCK/Over Fender Garnish
◼︎WARLOCK Special Decal Set (Camouflage)
◼︎NOMAD/16 inch AW (O/F Size)
◼︎BFGoodrich AT Tires(235/70R16)
◼︎Rear Ladder/Black(JAOS製)
◼︎SD9V Navigation (KENWOOD)
◼︎9 inch Navigation Panel
◼︎HDMI/USB Port
◼︎Interlocking Navigation ETC2.0
◼︎Maker Option: Steering Remote Control
◼︎Multi Camera Connection Kit
◼Specialty Floor Mat/Black
◼︎Roof Carrier (Mitsubishi Genuine 3 bars)
◼︎Roof Tent (Skycamp 2.0 Black)
Price:
⚫︎Vehicle Price:5,480,000 Japanese Yen (incl. tax)
⚫︎Service Fee:94,000 Japanese Yen
⚫︎Legal Costs:53,950 Japanese Yen  
Total Payment:5,643,350 Japanese Yen
Auto Loan Ultra Low Interest Rate: 1.9%
★Deposit:1,643,350 Japanese Yen
★Installment Principle:4,000,000 Japanese Yen
★Installment Plan:84 times(7 years)
★Bonus Addition(2 times/year):100,000 Japanese Yen
★Monthly Payment:34,000 Japanese Yen
★Final Payment:58,638 Japanese Yen