Clean diesel vehicles are not subject to tax reduction ★ Campaign implementation ★
Delica specialty store, Weed Tsuchiyama showroom.
The eco-car tax reduction will be revised from 2021.
The eco-car tax reduction is a tax reduction system for vehicles with excellent environmental performance that meet the exhaust gas and fuel efficiency standards set by the Ministry of Land, Infrastructure, Transport and Tourism.
What I saw there was that the clean diesel was not subject to the eco-car tax exemption. Due to the stricter emission and fuel efficiency standards, the Delica D5 will also be exempt from tax exemption from this April registration due to the eco-car tax exemption.
Automobile tax (environmental performance discount): 104,300 yen
Vehicle weight tax: 49,200 yen was exempted, so the cost will be about 150,000 yen higher for registration in March and registration after April.
Weight tax starts from registration after May.
The conditions change to buy the same car.
150,000 yen is big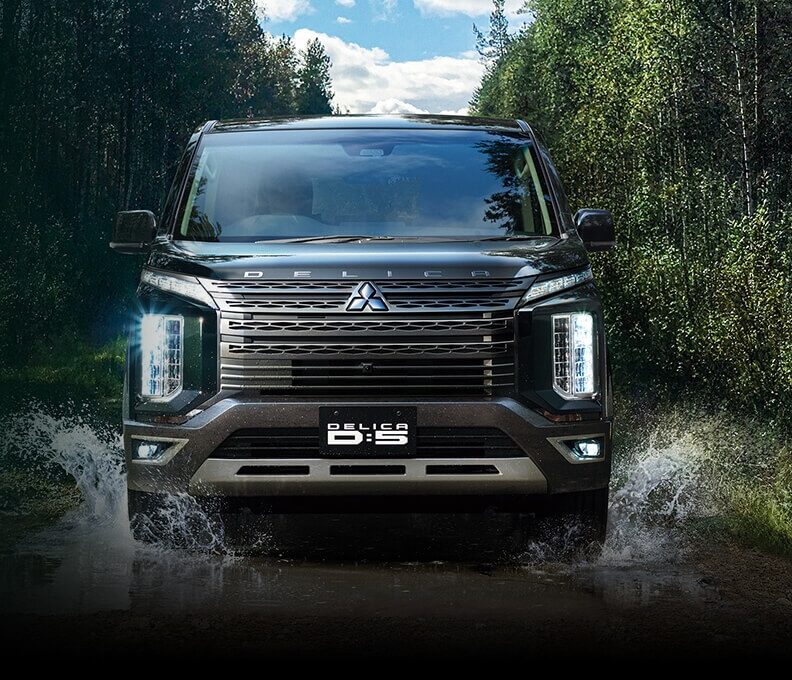 For those who are considering purchasing Delica
It's a story I'm never happy with.
But I want a Delica.
Yes, no other minivan can be used like this.
★ February campaign information available
Please read to the end
↓ ↓ ↓ ↓ ↓ ↓
■ Current situation
Delica distribution
Currently, with the soaring market price of used cars,
Sales are concentrated on new cars.
It depends on the dealer in each prefecture,
For new orders, production is around March, so there is a possibility that the tax exemption will be excluded.
■ Popular specifications
The Delica D5 is basically available in four grades.
M
G
G power PKG
P
To briefly explain, the power slide door on the right side is not installed on the bottom M grade.
Also, the power seat in the driver's seat and the seat heater in the front seat are not attached.
Furthermore, it is not possible to install the MOP multi-around monitor and the safety mounting on the rear side.
(* MOP = manufacturer option)
Vehicle body price: 3,913,800 yen
In the case of M, it is a power slide on both sides.
It is also possible to install a MOP multi-around monitor.
The safety device on the rear side cannot be attached.
Vehicle body price: 4,015,000 yen
In addition to the power slides on both sides of the G power PKG, the back door is also electric.
In addition, the driver's seat power seat, front seat heater, and steering heater are standard equipment.
Option for G grade: 88,000 yen
Vehicle body price: 4,251,500 yen
For P, MOP's multi-around monitor and rear side safety device are standard, and the outer door handle and door mirror are plated.
Vehicle body price: 4,387,900 yen
The popularity is P, and G power PKG.
The reason for choosing it is mainly safety equipment.
The multi-around monitor installed as standard on the P is an omnidirectional camera.
MOP: 60,500 yen The rear side safety device is BSW / LCA [RCTA] and MOP: 49,500 yen
Click here for the manufacturer's site
For G power, choose G power if you are not good at the appearance with P plated parts that can be installed both with MOP.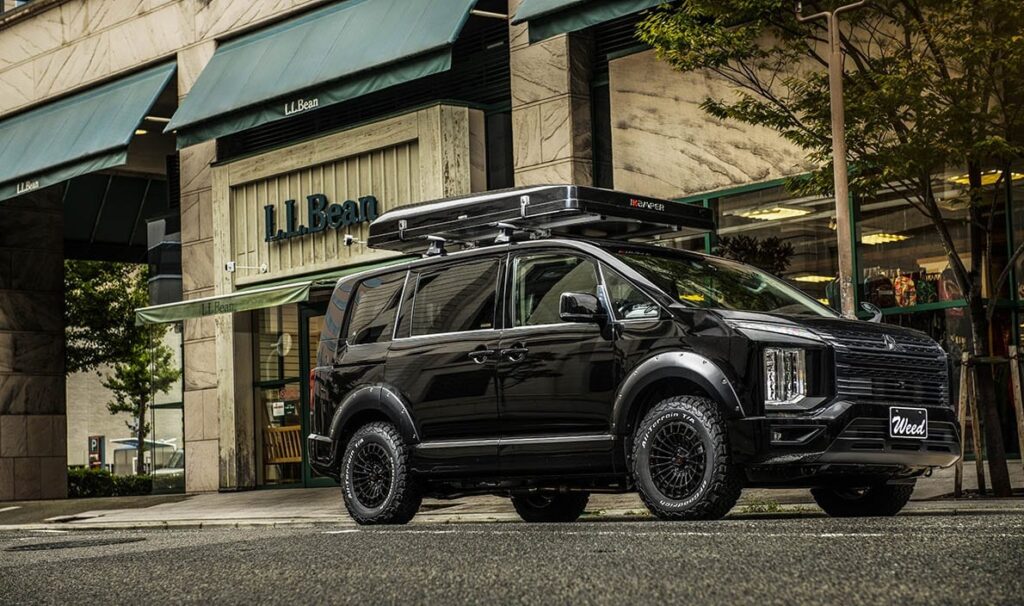 ■ Our new car complete model Our complete model is 100%
It will be handed over by new car registration.
It is not a common used car such as a registered unused car, a new old car, or a rental car registration.
The grade of the stock car is G power PKG.
MOP safety device (both) + navigation mounting PKG, Mitsubishi original 10.1 type navigation, ETC (set UP) included.
Vehicles sold at our shop
Basically, it is electric side stepless.
■ Customization
In addition, a model with BF Goodrich AT tires mounted on aluminum wheels dedicated to blacking out the silver part of the exterior
BK style
BK style with JAOS over fender added? (Photo) The in-vehicle tent is a model equipped with an original body kit sold separately.
We sell WARLOCK.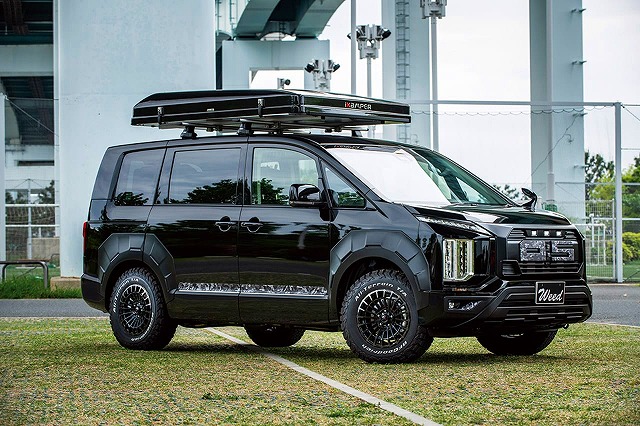 ■ Details of the new car complete model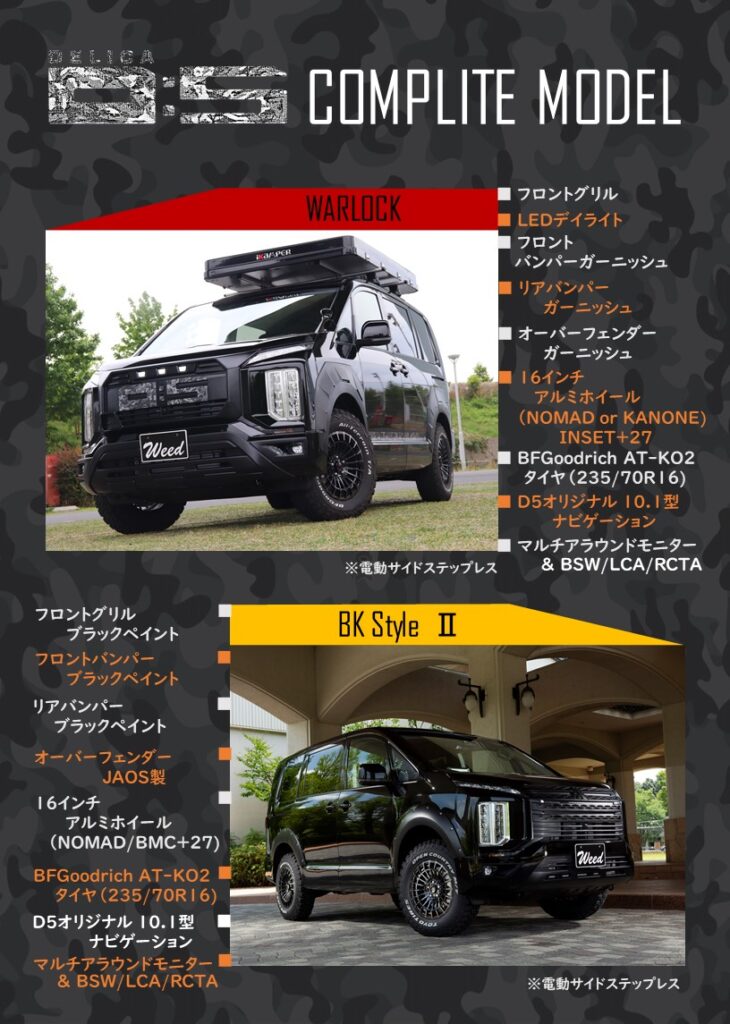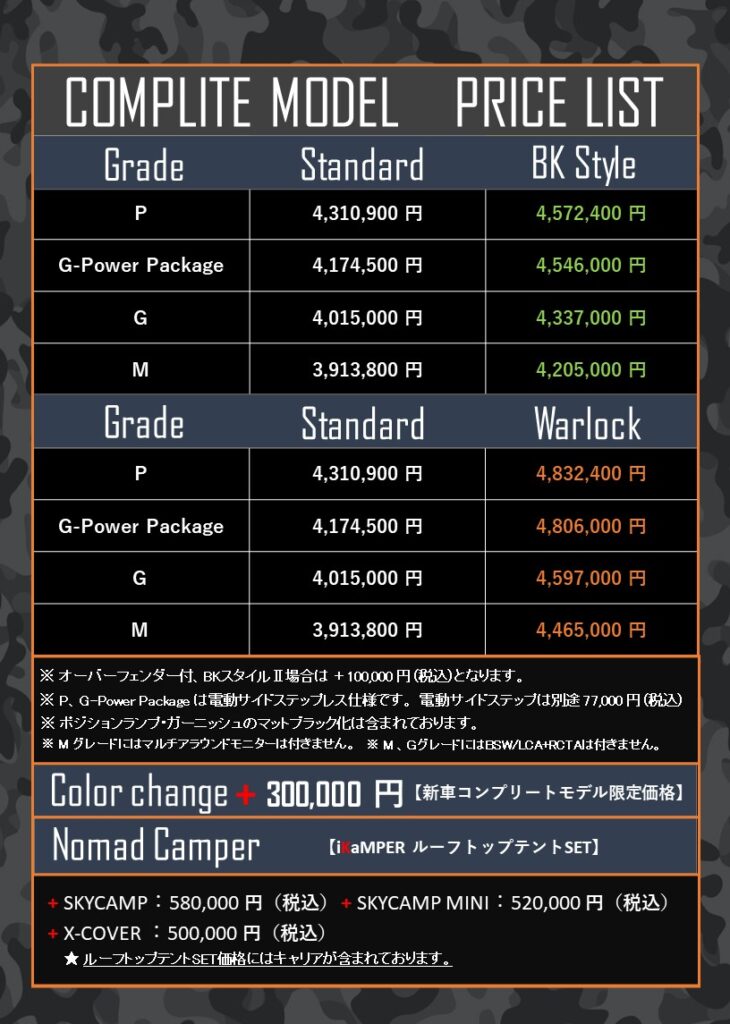 ★★★campaign★★★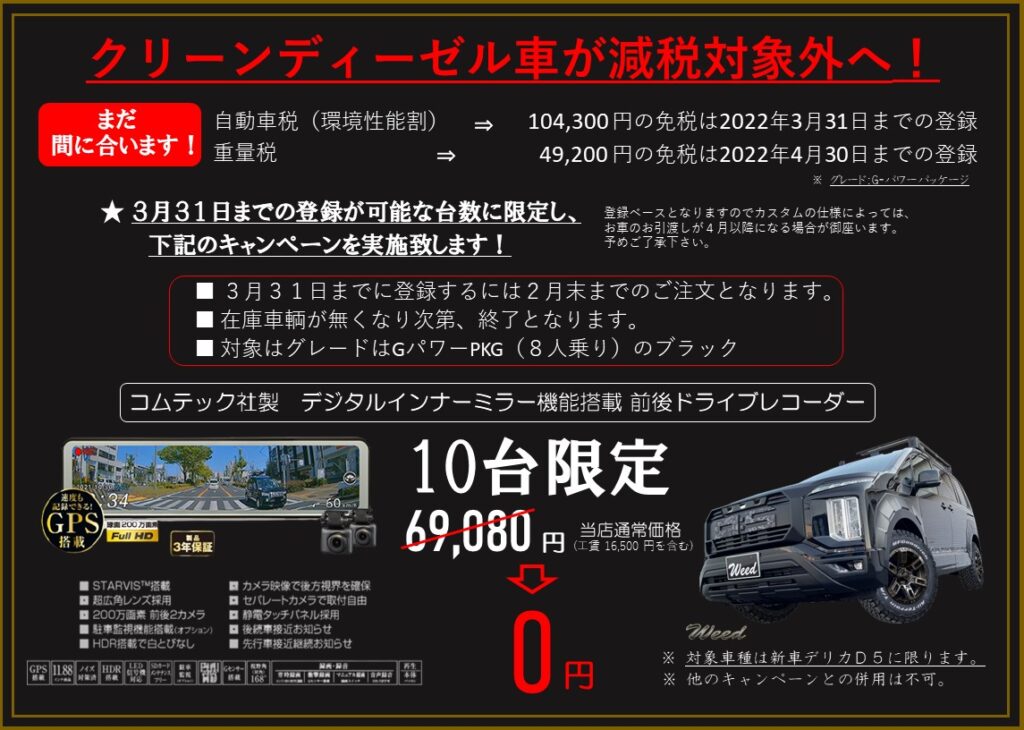 If you place an order in February, you will definitely be in time for tax exemption.
Omit the case where the documents do not arrive due to the customer's convenience.
Please note that the number is limited to 10 units.
Digital inner mirror with increasing demand
Everyone, dash cams have become commonplace.
Even in case of emergency, the dash cams before and after are expensive at 50,000 to 60,000 yen including wages.
Until now, the mainstream of dashcams was to always shoot the front with a small monitor, but the digital inner mirror type always shoots the back with the rear camera, so if a lot of people like minivans get on or load luggage The more you pile up, the harder it is to see the back.
It is a proof that the accuracy of the optimum camera has improved for such a car.
We often see cars with car films for privacy protection and vandwelling with curtains and shades on the windows, but they obstruct the view.
Digital inner mirrors are also effective in that respect.
I would like you to purchase Delica at a reasonable price when this tax exemption is in time.
The target model of the campaign is Delica D5 new car complete model, all specifications
Available at Weed Tsuchiyama store and Sabae store.
Please feel free to contact us.